The client is a keen art collector and needed a space that could house a portrait and furniture collection alongside a space for other activities including dress making.
Foundations on this project were six concrete pilings. This is a cost effective method we use on timber frame studios so that we don't have to dig trench fill foundations, which is labour intensive and costs more in material. On these pilings sit reinforced concrete beams on which the studio sits. The frame is made up of 4x2 timber studs lined with OSB and breather membrane.
We always build as much as we can in the workshop to save time on site. In this case the access for the panels wasn't ideal and was through the house (very common in London) it included a dog-leg in the hallway so the panels were reduced to two metre units. Foundation and frame work was complete in two and a half days.
The inside of the studio has plenty of space for working from home alongside a space for relaxing
Once the frame is complete the next step is to get watertight ASAP so our roofing contractor came straight in to get us up to this stage. We saved on the budget by using a more economical cladding material to the sides and rear as it will only be seen during maintenance a few times a year. For the cladding to the front we used sawn timber painted black with three coats of barn paint to get a scorched flame style look to it. The asymmetrical design of the façade was a collaborative idea between Trew Turner, the client and the clients Father who is a well known artist. We Love the striking design and had lots of fun playing with the aesthetics to get the right result.
Next step was to lay the screed for the concrete floor which was polished, then the plasterers came into plaster the walls ready for painting. Two rooflights added plenty of natural light into the space which made a huge difference as this studio is deeper than normal. Usually our studios are wider rather than deep, which suits most Period gardens as they average about 5m across.
The rear rooflight also opens which allows for gentle airflow. To finish we fitted the sliding door, painted the space and the electricians fitted the plug sockets and spot lights.
After a few final touches the space was ready to house the portraits and furniture the client wanted to display properly.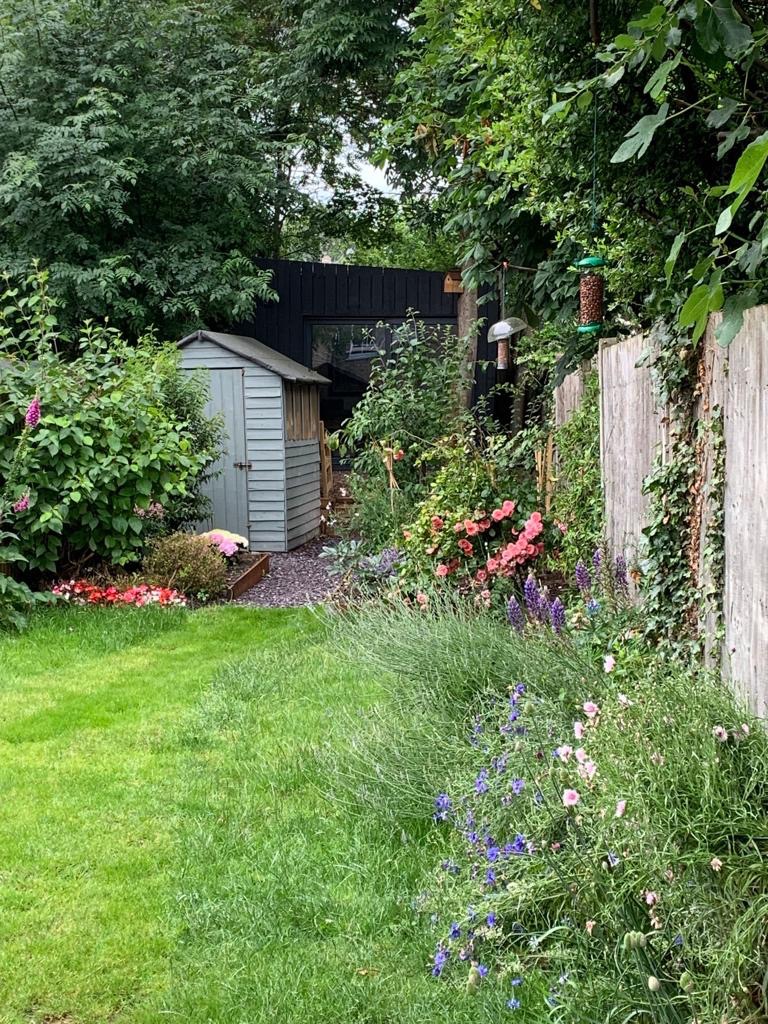 Tucked away at the end of a Long Victorian garden, the design is striking but neatly hides away between the trees